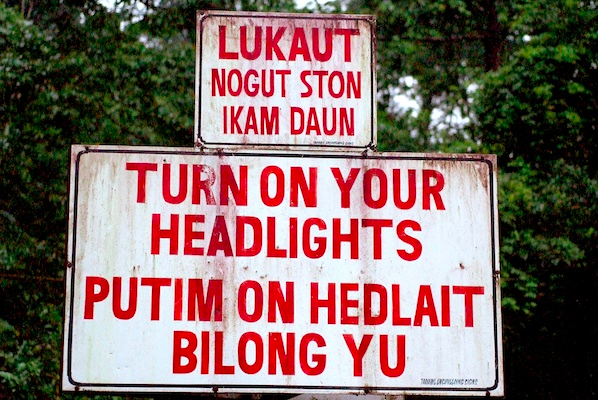 'Tok Pisin' is the creole trade language we will be learning in Papua New Guinea. As it turns out, a lot of creativity went into it:
maus gras (mouth grass) – "mustache"
gras bilong solwara (grass from the ocean) – "seaweed"
namba ten (number ten) – "pregnant"
namba ileven (number eleven) – "running nose"
sikispela lek (six legs) – "man with two wives"
lewa bilong mi (liver of mine) – "my true love"
While many people in PNG speak Tok Pisin to some extent, it is not the language that speaks to their hearts, and isn't sufficient for them to truly understand God's Word. Quotes from villagers after receiving the Bible in their own language:
"Tok Pisin leaves us hungry. Our own language gives us full nourishment."
"I see our big book and my stomach is good."
"Ah, this tickles my liver!"
Praise God for the progress being made in Bible translation so that people can hear His Word in the language that they know best! Please pray that language groups still waiting and asking for Scripture would be able to begin work soon.
Praise
Praise for more open doors to share about Bible translation!
We received a generous anonymous donation – thank you!
Prayers
Pray for God to build a team of partners to get us to PNG by early 2018
Pray for good health! We recently recovered from a bad flu/cold/plague that hit all three of us hard, and hope to stay infection-free for a while